The 2021 Subaru Love Promise Customer and Community Commitment Award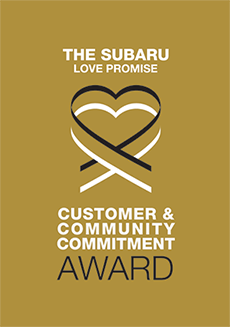 We've been nationally recognized for our dedication to our customers, our community, and the Subaru Love Promise.
We're honored to receive the 2021 Subaru Love Promise Customer and Community Commitment Award. This award nationally recognizes elite Subaru retailers who provide an exceptional customer experience at every interaction with Subaru. These retailers have also demonstrated an outstanding commitment to supporting passions and causes in their local communities in important areas such as the environment, community, health, education, and pets.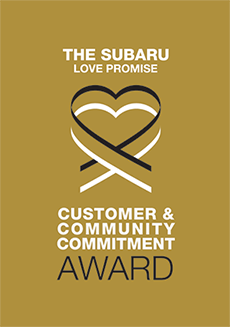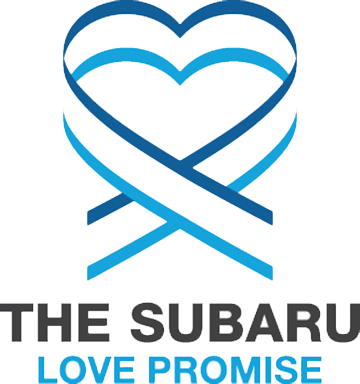 What is the Subaru Love Promise?
Subaru and our retailers believe in making the world a better place and the Subaru Love Promise is our vision of respecting all people. This is our commitment to show love and respect to our customers and to work to make a positive impact in the world.
How is Tacoma Subaru dedicated locally to the Love Promise?
Our Love Promise can be seen not just in word but in action. With local partnerships with non-profit and community partners, we live each day with that commitment. We don't just work here, we live here, and are driven to being a supportive force in our community. You Can Count On Us is not a motto, but a lifestyle.
Humane Society of Tacoma - Pierce County
Coastal Conversation Association
Key Peninsula Community Services
Multi Care Health Foundation
Love Promise Stories from Tacoma Subaru
Subaru and Tacoma Subaru believe in making a positive impact on the communities in which we live and work. We uphold that belief through our Love Promise Community Commitment. Every month, we select inspiring stories from customers and partners from around our area who strive to support our collective commitment and feature them here
Tacoma Subaru Supports First Tee South Puget Sound - Allie B
For the past 10 years Tacoma Subaru has supported First Tee - South Puget Sound in many ways, including sponsorship of our Harbottle Golf Classic, our biggest Youth Scholarship fundraising event of the year. In 2020, First Tee - South Puget Sound was honored to be the Subaru Share the Love community partner and was awarded funds for our Youth Scholarship Fund. Our Youth Scholarship Fund is utilized by more than 60% of our participants to help offset registration fees, because no child is ever turned away from our programming due to an inability to pay. We believe all youth deserve access to the game of golf and its inherent life values, and Tacoma Subaru has continued to help us impact the youth in our communities. In a season that has been so challenging for many, the support of Tacoma Subaru in 2020 and 2021 specifically has been incredibly impactful for our organization. In 2020, we held more classes than ever before as the demand for safe, youth programming increased, and we were able to continue providing scholarships as needed through the Subaru Share the Love support. We are incredibly thankful for the Tacoma Subaru family and their support over the past ten years of our organization, and we look forward to many years to come!
---
Another winter saved by Tacoma Subaru - Willow E
Every year Tacoma Subaru continues to bless us as the recipient of their annual food drive. Some years things have been so rough that we are putting things in people's bags while they are still taking them off the truck. In the food bank world we are small, but in our community we are a lifeline. Because we are a rural area, and not densely populated we only receive small government commodities, we do not receive any food from the large networks such as FISH or NW Harvest, but our need is still great. We are an area with a large senior population, and rural and farming families that are struggling to get by in these expensive times. Our need is great here, and Tacoma Subaru sees that, and once again, will help us get through the long winter months (not too mention the pandemic). This year their donation was so big they had to rent a U Haul to get out here, and with the help of the National Guard we were able to get it unloaded in record time. Tacoma Subaru brought out approximately 10,000 units of food, which is, in and of itself, incredible. But, the thing that strikes us the most, is the quality. Probably 60% of those units are canned fruits and vegetables, bags on bags of protein rich foods, there is thought in their donations, and there is often a cash donation as well. What many don't realize, is without support from business like Tacoma Subaru, we generally run out of food by mid January, we are then forced to dip into crucial cash reserves to get us through until spring when the next allotment of commodities comes in. Tacoma Subaru has truly become a lifeline for our little program out here. They assist us year round with other activities, and always take our call, but, the food drive is a life blood, and there is no amount of thank you s or accolades that can convey our appreciation for them choosing us, and their commitment from their employees is astounding and there are no adequate words, so we leave this comment, so that others can know of the incredible good works this organization does for their communities. Thank you Tacoma Subaru!
---
A New Life for Coco and Falko - Chloe D
Coco and Falko were the very definition of Underdogs. Due to their various medical issues old age, we were afraid that no one would take a chance on the two bonded seniors. But thanks to Tacoma Subaru's consistent promotion of the Humane Society for Tacoma and Pierce County during the National Make a Dog's Day Campaign, a family saw Coco and Falko on our website and knew they could give them a loving home. Coco and Falko are now living their golden years in relaxed retirement with a family who will always keep them healthy and happy. We are so grateful to our amazing partnership with Tacoma Subaru that makes Happy Happen for so many pets in our community!
---
Tacoma Subaru Always Comes Through - Jonathon G
Tacoma Subaru has partnered with Coastal Conservation Association for over 10 years. I don't think they have ever told us no. Whether it is providing sponsorship for various events or generously providing items for various auctions, prizes or giveaways. Covid has, of course affected us all. When we had to move our annual fundraising banquet to a virtual environment, a number of sponsors backed out or requested refunds, but not Tacoma Subaru, their response was to give us more auction baskets. When it came time for the annual beach cleanup, because of Covid restrictions, a formal event was no longer an option. But, we are all committed to our environment, and Tacoma Subaru once again answered the call by spreading the word of the need for cleanup, even though there was no formal event. We didn't do an official count, but we had way over 40+ people in Subarus show up for "a day at the beach", with boxes of garbage bags, smiles and a mutual love for this beautiful planet. This has been a rough year for all, but Tacoma Subaru has not lost sight of what is important. I am sure sales are their number 1 priority, but they haven't forgotten about the importance of their community or their environment. Thank you to everyone at Tacoma Subaru for their ongoing and continued support! Jonathon
---
Tacoma Subaru helps Keep em Warm n Fed - Rick S
A few years ago Tacoma Subaru's owner heard about the Keep em Warm n Fed program. A simple guy named Mike felt a tug on his heart for the homeless and started to drive around in his old broke down car and hand out homemade sandwiches to the homeless. While talking with them they asked questions, Mike found answers, and he became a go to guy with the homeless. Mike is a member of the St. Leo's Parish, and word spread of his good works, and the parish started to support him under their 501c3 so he could start accepting donations. This is a very short version of a long story, fast forward 20 years and Mr. and Mrs. Titus get word of what this kind man is doing, and when they see what he is driving, and what he is doing it with, they knew they had to help. A longtime customer traded in their older (but in incredible condition) truck, and they knew what they had to do. Mike needed a truck. So for Christmas (2018), they donated a truck to Mike and his Keep em Fed and Warm program. Now, fast forward a couple of years, and once again, the Tacoma Subaru team, and Mr. and Mrs. Titus, reach out once again. We get a call saying they want to help us again. They have blankets, LOTS of blankets, and they knew our outreach went directly to those on the streets and in need, and of course we were excited, once more for them to think of our humble little program. We met with the some of the very nice folks at Tacoma Subaru and, of course, Mr. and Mrs. Titus, and they presented us with not just blankets, but the most amazing, perfect for homeless blankets. They were weatherproof on one side, quick drying fleece on the other, and rolled up nicely for packing and convenience. We were once again stunned by their continued generosity. I don't know who reads this or where it goes, but I hope it makes it to the highest levels of the company and that they understand what a generous steward they have representing their cars. Thank you Tacoma Subaru, and Mr. and Mrs. Titus.
---
Tacoma Subaru Cares for Mary Bridge Patients - Katie J
Tacoma Subaru is very connected to the Leukemia & Lymphoma Society (LLS) and our mission of ending blood cancer and helping improve the quality of life of patients and their families. One of the ways they show their dedication to our mission is by bringing comfort to pediatric patients from the rigors of cancer treatment. On June 26, 2019, Tacoma Subaru delivered 80 brand-new warm, comfortable blankets and 50 arts and crafts kits to the children at Mary Bridge Children's Hospital. This is the fourth year for this partnership and each year, Mary Bridge looks forward to being able to give out these wonderful items to their patients. We were also very honored to be joined by their newest service pup who helps patients deal with the trauma from treatment and other important therapy duties. In addition to this donation, Tacoma Subaru also takes part in the LLS Light The Night event each year and is always a top fundraising team. On behalf of Mary Bridge Children's Hospital and the Leukemia & Lymphoma Society, we thank you from the bottom of our hearts for ensuring this wonderful donation takes place each year.
---
Tacoma Subaru Supports Guide Dogs for the Blind - Anne T
For the last few years, Tacoma Subaru has generously invited Guide Dogs for the Blind to hold our puppy deliveries at their facility. Our organization provides guide dogs free of charge to people who are blind or visually impaired. Our dogs are matched with people all over the United States and Canada. As part of our mission, we rely on volunteer families to foster and socialize our puppies until they are old enough to guide work training. We have over 100 volunteer puppy raisers in Washington State and we periodically deliver puppies to these volunteers and pick up the older dogs that are ready to return for formal training. Tacoma Subaru not only provide us with a wonderful place to meet for these deliveries, but they also give a gift to each new puppy and serve lunch for the entire group. Sometimes there are as many as 50-60 volunteers and staff, so that is not a small gesture. A huge THANK YOU to Barbara Dobbins and Tacoma Subaru for their ongoing generosity to Guide Dogs for the Blind.
---
Tacoma Subaru Food Drive sees a through the winter - Susie D
For the last 5 years we have been blessed to be the recipient of a large gift of food from Tacoma Subaru. They have been big supporters of one of our fund raising events an annual founders day type event in the summer. During one of these events we were short handed at our food booth and one of the Subaru team members who happened to hold a kitchen manager card hopped in and helped. During this time they discovered that we had a food bank as well, and we discussed how we have a massive need in our rural area of Pierce County. Because of our location and size we are not eligible for gifts from food networks like Northwest Harvest and Fish Food so we rely solely on donations and small government commodities. We have a large underserved population that consists of children and mostly seniors. The team said, we think we can help. That November (2014) they showed up in a Subaru Forester with the back filled with food. They had chosen us as their recipient for their annual food drive. We were excited and blessed. We didn't know what we were in for. The next year they showed up and had to bring a large SUV that was loaded to rafters and riding on the axles. Each year their donation has grown bigger and bigger and this last year through the efforts of this incredible group of people they had to bring an industrial size van and it was filled front to back, top to bottom with enough canned food to get us through the entire winter!!! This was truly an answer to a prayer, our staff were literally grabbing items that we were completely out of and putting them straight to the shelves for use that day, they brought us over 6000 units of food! They have brought tears of gratitude to our eyes on more than one occasion, we didn't think they could beat last year, and yet they did. We do not know if they have any idea the impact that their donation has on this community, and none of us are truly able to find the words, so we hope this little note will show the world what incredible hearts the folks have at Tacoma Subaru. Thank you Tacoma Subaru for all that you do for us.
---
Tacoma Subaru loves to care for kids - Katie J
On July 16th, Tacoma Subaru partnered with the Leukemia & Lymphoma Society for the third consecutive year to deliver blankets and arts and crafts kits to the brave kids experiencing cancer at the Mary Bridge Children's Hospital in Tacoma. Patients will receive a beautiful blanket and hand-written message of hope from customers at Tacoma Subaru and an arts and crafts kit. The Leukemia & Lymphoma Society exists to find cures for cancer and improve the quality of life of cancer patients and their families and Subaru helps LLS by donating critical research dollars. This delivery came on a perfect day as well, because Kristen Barsness, Child Life Specialist, commented about running low on craft supplies at the hospital! This was also a very personal delivery for one of the managers at Subaru as her child was treated for cancer at that same hospital many years prior to this partnership. Because of this manager's connection to cancer, Tacoma Subaru has also been bringing light to the darkness of cancer by being top fundraisers for the Greater Washington Light The Night event each October for many years.Thank you again for your care and compassion for the patients at Mary Bridge Children's Hospital; and for helping the Leukemia & Lymphoma Society fund local life-saving research to beat cancer and provide programs and services for patients in Tacoma and beyond.
---
Subaru helps make Pierce County dementia-friendly! - Kenna L
With support from Tacoma Subaru, the Alzheimer's Association is able to offer and expand programs across Pierce County designed to keep individuals living with memory loss and their loved ones socially engaged, physically active, and connected to their community. One such program is the weekly walk at the Point Defiance Zoo & Aquarium. Each week individuals living with memory loss and their care partners gather for a leisurely stroll through the zoo, enjoying the various animal exhibits, occasional presentations from zoo staff, and the chance to get outside in nature. After the walk group members share laughter and conversation at the zoo café. Dementia can often cause social isolation in both those living with the disease and those caring for someone with memory loss, but in programs such as the zoo walk, participants can feel seen, supported, and accepted. Tacoma Subaru makes that possible – thank you!
---
Appreciation! - Lynn N
My name is Lynn and I have been the grateful owner of a 2004 Subaru Outback for the past 14 years. My Outback has been a very special car for me, not just because of its great reliability, but for the many wonderful memories it has helped provide. I live in Alaska and travel to my birthplace, Tacoma, to visit and assist my mother. I am writing today to relay my sentiments regarding your Tacoma Subaru dealership and one of your employees, Cory Wick in the service department. I have found your dealership is not JUST a place to get my care serviced or repaired. I feel "blessed" to have discovered Tacoma Subaru a few years back. From the moment you enter the facility you get the sense that you have come to the right place. Always helpful and friendly employees. You get the sense immediately that you and your car are in good hands! My Subaru being 14 years old and having in excess of 150 thousand miles, my Subaru was understandably beginning to show its age. I was aware that the car had a few potential engine issues but have been trying to hold on until we moved back to Washington and purchase a new Forester, plus I was having a tough time tearing myself away from the car I have loved for those 14 years. I was in town on March 8th on one of my regular trips, and it was not a good day to experience the troubles that began when my car overheated. I managed to limp across town and get your dealership. I called ahead and spoke with Cory who was expecting me when I pulled in a cloud of steam from my soon to be diagnosed ruptured head gasket. I was due in Seattle to surprise a dear friend who was having her final chemotherapy treatment at the Seattle Cancer Care Alliance that afternoon. As I approached Cory's desk with a good bit of emotion due to my plight, he was quick to take on the roll of "it's going to be alright and we are here to help". After listening patiently to my "tragedy" of the day, Cory offered me a loaner and said he would call as soon as they knew more. "You take care of your friend, we'll take care of your car", and it made things feel a little better.I was able to have a wonderful visit with my friend and that made the day for both of us. Unfortunately however, later that afternoon the bad news arrived as I found out that the damage to my Subaru was extensive and would run in excess of $3000 to repair. After discussion with my husband, it became clear that the damage to repair the car was in excess of its given age and mileage, and the day I had dreaded for some time had come. It was late in the day and Cory said to keep the car overnight and deal with the return tomorrow.The next day I returned and Cory greeted me with his usual smile and helpful attitude. Las July we had lost our beloved 12 year old Golden Retriever, Newman. When I had gotten to the dealership I walked past the car and started crying. On the rear windows were Newman's nose prints everywhere as I had yet found the courage to clean them off. He loved that car and had also made several trips to your dealership with me. Your dog friendly approach was just one more reason I have come to love your dealership and all those memories came flooding back and unfortunately for him, Cory had to deal with the blunt of those emotions in that tough instance. I'm sure his is a busy man, but at the moment, he was as patient and compassionate as could be. He made me feel important and my emotions validated. WOW! Cory agreed to let me leave the car over the week as we had made arrangements to five it to a friend for parts. I returned the next day to clean out the last of the few loose items and another of your helpful employees, young man named Ken stopped by to see if he could offer help or any assistance. Yet another example of the exemplary helpful attitudes at your dealership. Obviously a great place to work and an example of "top down" customer first leadership. On every trip to your dealership, Cory has been a textbook example of how to! He is always friendly and helpful, generous with his time, and patient...even in the face of a hysterically crying female! Truly an asset and fine representative of your dealership. My husband and I are planning to relocate to Washington from Alaska this next year and when we do, we will return to Bruce Titus Tacoma Subaru with plans to purchase our next memory making Subaru, a Forester this time, and will do so because of the many fine employees we have encountered at your dealership...but especially because of Cory Wick...he is the greatest! Thanks to you for listening and for the wonderful experience at a difficult time. We'll be back!!
---
Tacoma Subaru loves Guide Puppies for the Blind - Robin R
Thank you Bruce Titus Tacoma Subaru! A perfect sunny day and a fantastic venue for a Puppy Truck delivery full of fat, wiggling puppies! The puppies were driven up from the Guide Dogs for the Blind kennels in San Rafael, California and handed out with great fanfare into the arms of local families that will be raising them for the next year. Older pups were then boarded so they could head to their college to the Oregon Guide Dog campus for formal harness training and to eventually meet up with their soul mates. The staff (Barbara!) and the sales people spoiled us with lunch and the awesome "Subaru Loves Pets New Parent Kit" for each puppies new family. Tacoma Subaru has generously offered their dealership again for our next precious delivery, Sunday November 12 at noon. The public is welcome- come for puppy kisses and get information on how you can be a Guide Dogs for the Blind Raiser! It takes a village to raise a puppy! Tacoma Subaru you ROCK!
---
Tacoma Subaru supports Care Giver Movie Night - Christine L
With the help of Tacoma Subaru, Pierce County Human Services and Family Resources Homecare of Tacoma, 75 family caregivers were able to watch a free movie with dinner and dessert. The evening included information and gifts from local vendors, and the opportunity to have their questions answered by a panel of specialists and win raffle prizes. It was a wonderful evening for these awesome caregivers, who work usually goes unnoticed. Many hugs were going around at the end of the night. The Alzheimer's association of Washington is very grateful for the partnership with Tacoma Subaru and Subaru of America, and their unwavering support for their community. This evening was a wonderful respite for our pierce County family caregivers! Thank you!
---
Tacoma Subaru Shares the Love at Mary Bridge - Anne G
Mary Bridge Children's Hospital in Tacoma, Washington, was delighted to be the recipient of a huge delivery of high-quality navy blue patient blankets and portable craft kids for children, chock full of art supplies. As a regional resource for pediatric cancer patients and their families, Mary Bridge knows that distributing these blankets and kits to current - and future - kids undergoing cancer treatment will be really well-received by the kids and their parents. On any given day, the hospital works with around 100 kids battling cancer – either visiting for outpatient appointments and infusions, or being hospitalized for longer term in-patient care. Days at the hospital can be long, and sometimes scary for the kids, so being able to wrap up in a cozy blanket to watch a movie, or to use the craft kit to create a one-of-a-kind masterpiece helps provide comfort to these amazing kids. Picture from L to R are: Kristen Bishop, Mary Bridge Child Life Specialist, Courtney Barr and Renee Willis from Tacoma Subaru, Lou Ann League, Mary Bridge Child Life Assistant, and newly trained high school volunteer, Brynli Loomis, and LLS Campaign Manager, Molly Oshin. Renee's connection is both personal and professional, as her child (now an adult) is a pediatric blood cancer survivor and she and the Bruce Titus Automotive Group, which includes Tacoma Subaru, have been long-time, generous supporters of the Leukemia & Lymphoma Society and Mary Bridge Children's Hospital.
---
Subaru and NWF Loves the Earth - Chris G
As part of the Subaru Loves the Earth program, St. Patrick Catholic School received a donation from Subaru – all of the elements to create a sustainable habitat in our garden area. The perennial plants will be arriving soon and will help attract butterflies to our school grounds. Special thanks to the Titus family and #TacomaSubaru for helping us receive the #subarulovestheearth garden. We love the symbolism of butterflies, and hope that our garden inspires our students to love the earth!
---
Our Tacoma Habitat - Heather M
As part of the Subaru Loves the Earth program, St. Patrick Catholic School received a donation from Subaru – all of the elements to create a sustainable habitat in our garden area. The perennial plants will be arriving soon and will help attract butterflies to our school grounds. Special thanks to the Titus family and #TacomaSubaru for helping us receive the #subarulovestheearth garden. We love the symbolism of butterflies, and hope that our garden inspires our students to love the earth!
---
Thanks from the Red Barn Youth Center! - Clint R
When I was initially contacted about being a part of Subaru's "Share the Love" event, I must admit that I was not really sure what to expect. Once it was finished, I was told that we would be receiving a check, and that the Subaru folks wanted to bring pizza and drinks out for our kids along with a check for the Red Barn. We set up a date and time, and boy, was I ever surprised! There was enough pizza to feed a small army (or a room full of hungry teens?) and I was shocked when Bruce Titus himself walked up and introduced himself, along with his daughter, Courtney. It was pretty impressive to see the owner of the dealership show up personally, and take the time to talk to our kids and staff members for quite a while. Most of the kids who come to the Red Barn come from a lifetime of poverty, and it was exciting to watch their faces light up when Bruce and Courtney took the time to show interest in what the kids where working on. The generous donation made by Subaru will be used to buy clothes, shoes, and jackets for our kids, as well as to replace our old and seriously outdated sports equipment with new and modern equipment. Thank You for your kindness and generosity toward the Red Barn Youth Center!
---
Fall Food Drive 2016 - Exceeding all expectations - Dennis C
In 2015 the Tacoma Subaru team committed to filling the Subaru and exceeded all expectations. They liked the feeling of helping the food bank so much they committed to beating their record breaking year of 2015. With the help of the community and the corporate office, they did!!! It required 2 vans to haul 2,217 food items, mostly canned goods to the Key Peninsula Community Center. KPCC serves a large rural area with a large senior population and are the only food bank in the area. Their gratitude was overwhelming, and the Tacoma Subaru team is committed to breaking their record every year.
---
Thank you Tacoma Subaru - Santa Paws - Linda K
Thank you (Tacoma Subaru) for hosting such an awesome event. We had a great time :) I'm off to make my 2016 Christmas photo with your photos! - Linda & Matoskah
---
Santa Paws 2016 - Barbara D
For the last 6 years we have held our annual Santa Paws event at Tacoma Subaru, during the first weekend in December. Each year, the number of participants has grown. While the event is completely free for anyone who wants a picture with Santa, we do ask for donations of pet food/treat/toy or cash to support the Humane Society of Tacoma and Pierce County. While we collect donations on the day of the event, we continue the pet food drive through to the week before Christmas. This year we exceeded all previous years, and served over a 100 groups, took in more food than ever, and raised $544. We enjoy seeing all the wonderful fur babies, and all types are encouraged to participate. We enjoy connecting with our pet community and saying hi to those who participate every year. Regardless of how many participate, we always enjoy seeing their smile when they realize that there is a professional photographer and we give them a copy that day as well as email all of the pictures of the photo shoot. Even the less than perfect ones!
---
Subaru Loves Pets - October 2016 - Shelby T
Tacoma Subaru has a very special love and caring for the Humane Society of Tacoma and Pierce County. We are always able to count on them, often with short notice. We called them 2 weeks before our Pawsitive Alliance Open House, and asked if they would sponsor. "Yes!" is almost always the answer with them. With their help and the Pawsitive Alliance team we had over 500 people stop by on October 1st and were able to help over a 100 furry friends find forever homes. However, they don't just send us a check, which is appreciated, they show up. In addition to sponsorship, they brought several huge bags of new dog toys to be given out for the day. They drop by every couple of months and bring us a cash donation from their Pennies for Puppies for jar and then, they show up with 4 big bags of pet food/treats from a food drive they held in October. Thank you Tacoma Subaru! Thank you for your dedication to the fur baby members of your community.
---
great dealer - Gary C
This dealership has done everything and more to help me. Every one of your sales people are outstanding and your service department is the best that I have ever done business with. I have dealt with a lot of dealers and service departments. I am 65 years of age so, as you can see, I have been at this for a while and I wish to thank you for all you have done for me and others.
---
Hope Instillers support Subaru Loves To Care - Barbara D
The partnership with LLS for June hit close to home with the Tacoma Subaru team. A very dedicated group of employees have been fundraising for the annual Light the Night Walk that supports LLS. They work tirelessly throughout the year working to meet their goal. Why? Because in 2009 our parts manager's son was diagnosed with Burkitts Lymphoma at the age of 20. Because of the work of LLS and supporting partners such as Subaru, we know first hand the good works happening with LLS. Renee's son is healthy, and has since had a child of his own because of that research. To show their appreciation the Hope Instillers gathered on a Saturday (June 25) and we threw a little Ice Cream Social, to spread awareness, and thank everyone who stopped by and filled out cards of hope for the kids at Mary Bridge Children's Hospital. We had a wonderful turnout, and everyone got to meet sweet Gage, and when they read his shirt, they knew the impact of this event and this organization: I wear green for my daddy.
---
Tacoma Subaru for LLS - Christopher J
The dealership was having an ice cream social to benefit the local LLS Chapter and there were several LLS donation canisters. The table had more literature regarding LLS than the other dealerships I visited. It was evident that this was more than a one month campaign for this dealership. I received a message on Facebook that a member of the staff wanted to speak with me and had something for me. We made a return trip after I exchanged a few emails with Renee. I learned how important and personal this cause was for Renee as her son is also a survivor. She stated she was overcome with excitement when she learned of the partnership. This was the reason I needed to be a part of this partnership. I know I was a part of something amazing. What I'm doing meant something to someone. Renee shared all of the dealerships Light the Night information with me and invited me to be a member of the team & invited me to pass out the blankets. Renee was so thoughtful and gave me a goodie bag filled with LLS & the dealerships items as well as her contact information. Renee introduced me to Allison and the level of support for Renee and her son was beautiful. From what I can tell from the time I spent at Tacoma Subaru is that it is more of a family unit than a place of employment. I wish more employers would rally around and support their staff the way Bruce Titus & Tacoma Subaru does. They truly exemplify and are examples of what the Subaru love promise is about.
---
Tacoma Subaru Loves To Care - Barbara D
The entire Tacoma Subaru team was excited when SOA announced that in June they would supporting The Leukemia & Lymphoma Society (LLS). LLS and their annual Light the Night Walk have been a pet project of Tacoma Subaru for over 5 years. The Tacoma Subaru staff have rallied around their Parts Manager, who's son is a survivor, and formed the Hope Instillers. They bring awareness and fundraising efforts year round, and over the course of their mission have raised over $35,000. Many are not aware of the good works that LLS provides. Not only are they committed to finding a cure, (which they have done an excellent job), they also provide care and support services for those who are battling. Often helping with ride programs to get patients to their treatments, assistance with basic necessities, such as utilities and food, or picking up medications at the pharmacy.The entire team, and the Hope Instillers are looking forward to the opportunity to deliver the blankets to our partner hospital, Mary Bridge Children's Hospital, and deliver all of the messages of hope that our wonderful customers have written. An event that hits home, Tacoma Subaru Love to Care!!
---
Share the Love 2015 Benefits ALZ of Washington - Sara M
Bruce Titus Subaru's Share the Love gift will provide education, resources, and hope to families in Pierce County who are facing an Alzheimer's disease or other dementia diagnosis. This support will directly fund our May 14th Early Stage Memory Loss Forum in University Place. This Forum provides education, encouragement, inspiration, and resource sharing for people who were recently diagnosed or are living in the early stages of Alzheimer's. Funds also make it possible to sustain Pierce County caregiver support groups, support via our 24/7 Helpline (800.272.3900) and our Tacoma social engagement programs for people living with Alzheimer's. We were amazed at the stories we heard from so many Tacoma Subaru customers. ALZ is definitely a misunderstood disease, and we are grateful that Tacoma Subaru chose to help us spread the word and support Pierce County Resources. Thank you to the staff, but especially to all of their wonderful customers who chose the Home Town Charity for their Share the Love 2015 donation!!
---
The Butterfly Heroes at Tacoma Subaru! - Tacoma S
The Monarch butterfly is a familiar favorite of many of our childhoods. Unfortunately, the decline in milkweed plants that are the only natural home for Monarch larvae has caused the Monarch population to plummet by over 90% in recent years. To help raise awareness to this issue, Tacoma Subaru has partnered with the National Wildlife Federation for the Butterfly Heroes program as part of our Subaru Loves the Earth initiative during the month of April. Want to learn more about how you can join us in our effort? Stop by our store to get information on the Butterfly Heroes program and pick up a pack of seeds to start your own butterfly habitat.
---
Tacoma Subaru hits it big at 68th Golden Gloves - Greg P
The 68th annual Golden Gloves boxing tournament was held in January 2016. This event supported by the Tacoma Athletic Commission, is the longest consecutive tournament running west of the Mississippi. The TAC is proud of its role of leadership in Tacoma-Pierce County Athletics. The Golden Gloves Tournament is a major fund raising event of the TAC which in turn has allowed the TAC to financially support many local athletes and provide improvement to many sport facilities over the last 70 years. We are grateful for local businesses such as Tacoma Subaru for their dedication to their community, and for seeing the value in supporting local athletes. Events staged by the TAC go beyond the Golden Gloves tournament and include recognition ceremonies for local high school and college athletes, golf tournaments and other athletic events. With all of this said, we appreciate Tacoma Subaru and their willingness to see outside of the box, and support events that may not be seen as glamorous, but reach the community in deep and often profound ways. Thank you Tacoma Subaru!
---
Santa Paws 2015 - Barbara D
Every year Tacoma Subaru holds their annual Santa Paws event. This event support the Tacoma-Pierce County Humane Society. Santa is on hand to take pictures with anyone who wants to, pets, of course are encouraged, and it is fun to see pets from previous years. The event is free, however, we do ask for a donation of pet food, treat or toy, and of course, cash is also accepted. Santa and his photographer helpers, give everyone who stops by a free copy of their picture, and then all photos taken that day are emailed at no additional charge. There is a lot of love in the air on picture day, and we have seen all sorts of pets, dogs, cats in elf costumes, lizards and 1 hedgehog. Our community knows we are dedicated to our furry friends. This year we raised over $100 and several bags of food/toys and treats. This coupled with donations from our Pet Project Test drive campaign has resulted in over $1500 donated to Tacoma Pierce County Humane Society in 2015. Not counting sponsorship of adoption events!
---
Food Drive CRUSHES all previous records! - Susie D
Every year the Tacoma Subaru team and BTAG Corporate office combine forces for our Annual Fall Food Drive. The drive runs for about a month, this year it ran from October 24 through November 22. Our battle cry this year was FILL THE FORESTER!, and we did and much more! With our food drive, we offer a Fall Food Drive drawing for anyone outside of the organization. For every item of food they bring, they receive an entry to the drawing. The Grand Prize....$50 Gas card, with many other prizes up for grabs including service and Subaru gear. We don't know what sparked the movement, but we are glad the flame was lit. We always strive to bring in a little more than the previous year, but this year, with the help of our dedicated team and amazing customers crushed it! We took in 813% more food than we did in 2013 & 2014 combined! It was beyond heartwarming, and the folks at Key Peninsula Community services couldn't believe it when we had to take out 2 vans to get them all of the food. We were overwhelmed by their love and gratitude, their commodities were all used up, and they weren't going to see any more until spring. With the generous donations and commitment of our community and the Tacoma Subaru team, they are confident that February will look much better now. Thank you to our amazing community for their support!
---
Taocma Subaru supports local shelter - Shelby T
The Tacoma Pierce County Humane Society has a simple mission. To advance the welfare of animals in Tacoma and Pierce County. Seems simple enough, but without partners such as Tacoma Subaru and the countless private donors we could not do what we do. On October 3, with the help of the group Pawsitive Alliance and Tacoma Subaru we hosted a very successful adoption event. With the help of Tacoma Subaru were able to purchase a new branded tent that we can use when we are out in the community at various events to bring our mission to the community, and saw 45 furry friends, find new homes. The Tacoma Subaru team was on hand all day, in what turned out to be a rather windy fall day...with their beautiful Subaru and wonderful collapsible water bowls for anyone who wanted one. This is the kind of partner every shelter needs. While we are certainly grateful for their assistance with this event, this is not a one time thing for the Tacoma Subaru team. They have a wonderful campaign called the "Bruce Titus Pet Project", and when a prospective buyer takes a test drive, and decides to purchase the vehicle, they can elect to give $25.00 to the Humane Society, this in addition to other events such as Santa Paws in December proves they are committed to the furry members of their community. Thank you Tacoma Subaru!
---
The First Tee of S Puget Sound Harbottle Classic - Whitney H
The Tacoma Subaru team has been a strong supporter of The First Tee of South Puget Sound for many years. The focus of this group is on our next generation. Their mission is to impact the lives of young people in the South Puget Sound by providing educational programs that build character, instill life-enhancing values and promote healthy choices through the game of golf. In addition, many kids are exposed to a game and group of people that they might not otherwise come in contact. The board members of this local chapter are so committed to this organization and mission that it is absolutely infectious! Without the support of sponsors like Tacoma Subaru there would be no program. The organization is privately funded through generous benefactors and community support. The hole in one hole is the most popular hole, and can sometimes cause a back up because everyone wants to sit in the pretty new Subaru, and take their time planning their shot, hoping to win!
---
Stuff the Subaru School Supply Drive 2015 - Chris G
Stuff the Subaru 2015! We put out the call and the community answered. Tacoma Subaru received over 238 items and matched a $1 for every item received, so the school received a cash donation of $238 and 8 bags stuffed with much needed school supplies. As anyone would be, we were not surprised to lean how much money teachers spend out of pocket to help students with school supplies. The staff at St. Patricks were very grateful. Principal, Chris Gavin sent this little note after we dropped off his school supplies. Good Morning, Just a quick note of thanks for delivering the classroom supplies. Needless to say, teachers have already gobbled up a great number of the items. I love to hear the conversation about which kids may need certain things. I personally appreciate the care you have given in dealing with us at S. Pat's. It may seem like a little thing but you including us in this national Subaru initiative has meant a lot to us. My Best, Chris Gavin Our pleasure Mr. Gavin!
---
WoofStock 2015 - Pets Saving Humans - Julie D
As a participant in Woofstock 2014, we knew that we had to be a part of it in 2015. The Dugan Foundation in a coordinated effort with Pawsitive Alliance are committed to the furry friends community and the humans they save. These 2 groups bring over 30 rescue organizations, plus pet focused vendors and support organizations together for one day, for 1 purpose. To help keep pets out of shelters and in loving homes! This is not just an adoption event, this is a family event. There is someone on stage through the whole event, and every musician has donated their time. There are countless volunteers, walking dogs, helping the rescues, helping the sponsors, generally just a very helpful group of people. There are large pen areas set up all around the event so that fur friends and potential families can get to know each other, and make sure they are a good fit, without the pressures of the leash, and other distractions. The Tacoma Subaru team was on hand all day, providing take along/collapsible water bowls and entertaining bubbles. The kids loved it...and adults, and of course fur babies. The Dugan Foundation and Pawsitive Alliance helped over 100 pets find a forever home, and raised over $5,000 that of which a portion is distributed back to the various rescue organizations to help in their ongoing commitment to keep these wonderful animals out of shelters.
---
Feeding Tacoma! - Bob B
As part of the Subaru Promise they asked us to do a food drive to support Meals on Wheels locally. We were delighted to help. Feeding Tacoma has been a long standing tradition with Tacoma Subaru, and we were excited to add an additional food drive into the year. We have the most generous guests and staff!
---
Tacoma Subaru Loves The Earth! - Bob B
The Tacoma Subaru team were honored to get behind the Subaru Loves the Earth campaign. As a store, they are already committed to the environment and practice what they preach every day. However, it was great to be able to be a drop off point for old electronics and be assured that they would be picked up and disposed of properly. Our customers and other community members truly appreciated our efforts.
---
South Sound CARE Foundation - A HomeTown story - Frank S
Back in 2008, a group of community leaders shared a common vision...to create a foundation that would support and expand clinical trials and cancer research in the South Sound region, ultimately providing its residents with cancer treatment options otherwise unavailable. Hence the birth of South Sound CARE Foundation. Comprised of local leaders in the cancer care community, South Sound CARE's board includes cancer survivors and medical professionals from MultiCare, Franciscan and NW Medical Specialties all striving to eradicate this deadly disease. Despite a lack of medical knowledge, but with a strong connection to the community, Mary Byrne, General Manager of Tacoma Subaru (2012) was asked to come on board, and currently serves as acting secretary. Mary has volunteered her time wisdom and financial support over the last few years, and when Subaru announced that they were adding the Home Town Charity option, she spoke with her staff, and they all agreed that this would be the perfect charity to represent the Tacoma Subaru team commitment to their community. On April 11, Mary Byrne, and her team were able to present a check for $22,389! Our customers overwhelming chose our Home Town Charity, because many new Dr. Senecal and his cause. Many said they came to Tacoma Subaru because South Sound Care was our Home Town Charity. Thank you Dr. Senecal and your team for what you do!
---
Tacoma Subaru Hosts Woofstock Event! - Julie D
On August 2, 2014 Tacoma Subaru was an honored sponsor of the annual event Woofstock. The Dugan Foundation in efforts with Pawsitive Alliance hold this annual event in Tacoma to support adoption and other pet related causes. Woofstock helped 110 pets find a forever home with over 50 volunteers hauling kennels, filling water bowls and assisting attendees. In addition to helping over a 100 animals find a home, they raised $5500 for grants to rescue organizations and shelters.
---